Kuala Lumpur airport. 8hours later. 4hours to go. CRY.
Why have I been in Kuala Lumpur airport for 8hours already? Because I managed to get cheap flights from Sydney to Phuket.. The only downfall being that there was a 12hour lay over in Malaysia.
Not so bad we thought, let's do some sightseeing in Malaysia we thought, oh and the weather will be nice… We thought. None of the above apply. The airport is pretty humid and sticky, we are not allowed to leave the airport, and even if we wanted to, it's tipping down with rain.
So here's to the beautiful city we unfortunately did not get to see…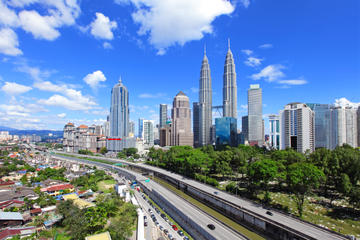 Anyway, with only 4 hours to go and chicken and noodles in our belly, things are starting to look up. The next flight is only about 1 hour and a half, and then we will arrive in Phuket, Thailand.
My previous post was questioning where I was going to travel to next and where I would end up, and as mentioned before, SkyScanner (my good old friend) helped me decide that by offering cheap flights to Phuket.
With cheap flights comes little leg room and sometimes a few too many people breathing your air. With 'Air Asia' cheap flights comes; far too little leg room, far too many people breathing your air, no food, run down interior, forgetful staff and last but not least, NO WATER. Obviously if you have plenty of money this is not a problem as you can use that to upgrade you to Business class and order meals and drinks.Unfortunatley for Kyle and I we did not know food & drink were not included, therefore had no cash on us. (No Visa Debit accepted) I went 9hours with no water and when I did eventually beg them for tap water or just anything to drink, I was refused as they "don't have any cold water". Very unimpressed and after much debate, I walked away with one boiling hot cup of water which I waited patiently for it to cool down, before I could finally drink it. Now I know this sounds like a bit of an exaggeration, but I can assure you, 9hrs up in the air creating dry mouth and lips, with no liquids is not pleasant. I shall not be flying with Air Asia again.
At least I know it'll all be worth it in a few hours time when I'm nomming down some Pad Thai in the local markets with a bottle of Chang. Beaut.
I still have more research to do for Phuket in what to do, but I know the Big Buddha is on my list, the night markets, Monkey Hill and obviously sunning it up on some of the beaches. Do you have any more recommendations? Please share.
After Phuket we have no plans (one way tickets are the best!), potentially heading up to Chang Mai. Again, any good stops along the way?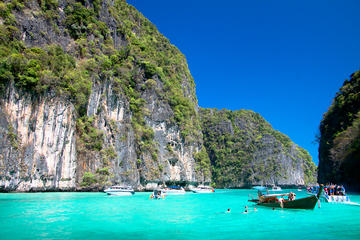 Bye for now & wish me luck on the next flight!
Rosie xo